Try Our Famous Square Pizza!
About Us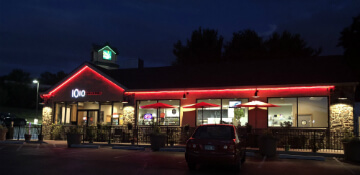 1010 Pizza is a family owned and operated business that has expanded to many locations over the past 30 years. We're famous for our Square Pizza and have worked hard to perfect the taste and texture. Our signature Upside-Down Pizza will surely leave your taste buds satisfied! Our certified Black Angus Steaks and Burgers are a must-try! Don't forget to add one of our delicious salads, fresh-cut daily and prepared with loving care. And if you're planning a party or other event, ask about our Catering menu.
We welcome you to 1010 Pizza and thank you for your business which makes us better and better every day!
Friendly regards,
The 1010 Pizza Family
Order Tracker
Enter your phone number to track your order
Register
Register and get 15% off first online order.
Create an account with us today to order faster, safer and keep track of your past orders.
Special offers and promotions are regularly available to our registered users.
Our Menu
Pizza

Calzones & Bolis

Appetizers

Burgers & Chicken

Buffalo Wings & Platters

Cheese Steak & Chicken Steaks

Grinders & Parmesians

Pasta Dishes

Salads

Wraps & Hoagies

Beverages/ Driinks

Breakfast

Catering Trays

Family Meals & Salads

Family Meals Tray / Kids

Cakes